Allen & Gledhill seminar on Singapore-China relations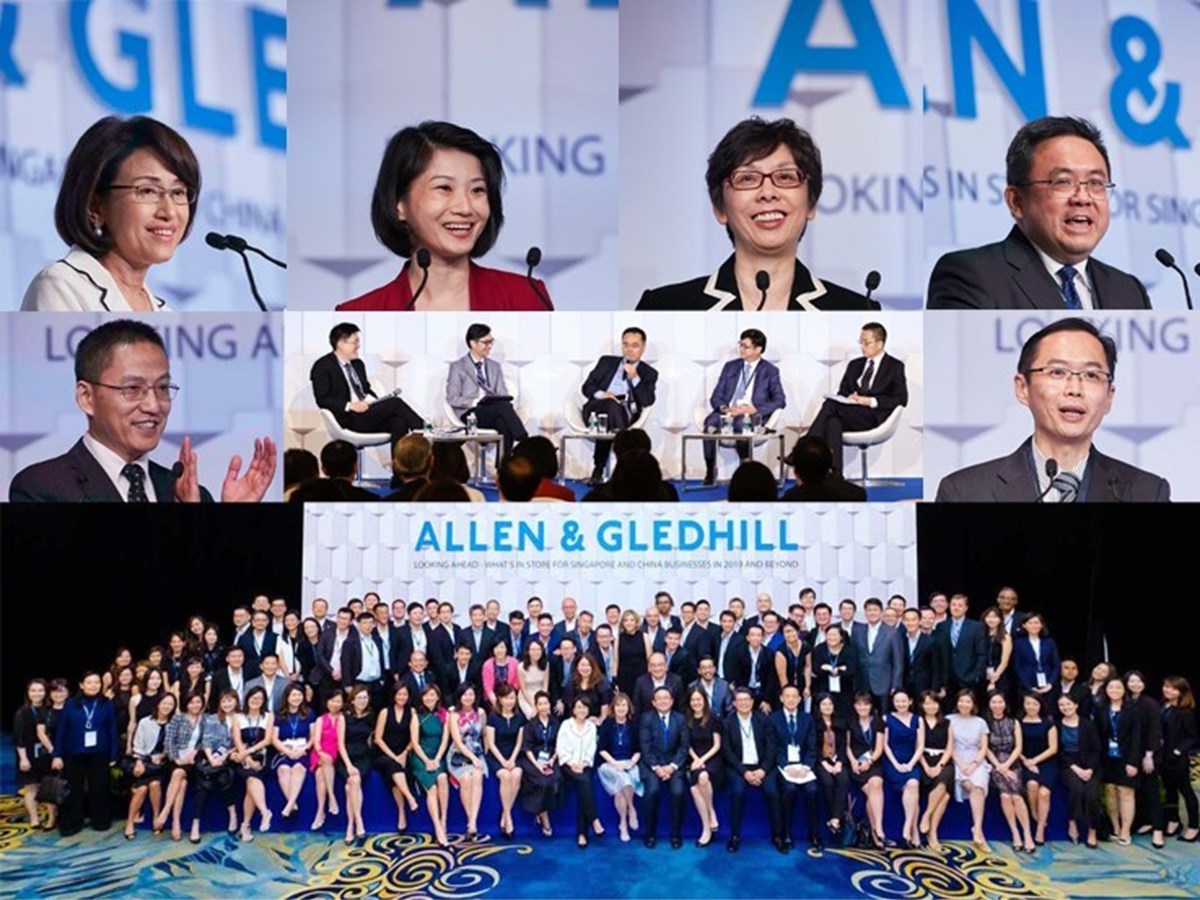 A&G News 15 March 2019
On Thursday, 14 March 2019, Allen & Gledhill organised an event to discuss Singapore-China business and investment relations.  Held at the Shangri-La Hotel, the event entitled "Looking Ahead – What's in store for Singapore and China businesses in 2019 and beyond" was attended by over 600 of our clients and friends.  Speaking in English or Chinese, with simultaneous translation provided for our audience, our speakers covered a variety of topics.
Our Guest of Honour, Ms Sun Xueling, Senior Parliamentary Secretary, Ministry of Home Affairs & Ministry of National Development, provided an overview of the long history of cooperation between Singapore and China, and discussed current and future opportunities for business collaboration between the two countries. Our Special Guest Speaker, Madam Zhong Manying, Economic and Commercial Minister Counsellor, PRC Embassy in Singapore, highlighted economic growth and investment environment in China, and shared her insights on the reasons and opportunities for business and investment cooperation between China and Singapore companies.  Mr Seth Tan, Executive Director, Infrastructure Asia, discussed opportunities in the infrastructure sector, and how Singapore could be useful for Chinese companies in facilitating cooperation in the South-east Asian market. 
Mr Huang Xuhua, Head of our China Practice, set out the anticipated changes to be brought about by the PRC Foreign Investment Law (which was passed on 15 March 2019 and will come into force on 1 January 2020) and further discussed other reforms made to the Chinese legal framework and foreign investment administrative system which would facilitate doing business in China.  Rounding off the afternoon was a panel discussion moderated by A&G Partner, Mr William Ong, which touched on inbound and outbound opportunities for Singapore and Chinese entities, the role of Singapore in ASEAN countries for China cross-border investments, and the impact of China-US trade tensions. Our panelists were Mr Clarence Hoe, Director, Infrastructure Services, Enterprise Singapore, Mr Cheng Ruimin, Council Member, China Enterprises Association (Singapore), Mr Eugene Wong, Vice Chairman, China & North Asia Business Group, Singapore Business Federation, and Mr Huang Xuhua.
We would like to extend our warmest thanks to all our speakers and panellists for sharing their insights with us, and for all our clients and friends for participating in the event, making the afternoon a resounding success.